Rhage

Born

1843

Change

1868

Age

165 (As of Dark Lover)

Species

Vampire

Gender

Male

Height

6'8"

Hair Color

Blond

Eye Color

Teal Blue

Shellan

Mary Madonna Luce

Affiliation

Brotherhood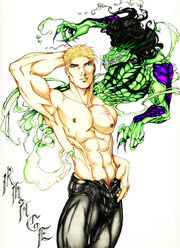 Rhage
Rhage, son of Tohrture is the strongest member of the Brotherhood. His good looks garners him the nickname "Hollywood". He is cursed with a creature known as "The Beast" that is a danger to everyone around when it appears.
First Appearance
Rhage first appears in the book "Dark Lover".
Personal History
Rhage, son of Tohrture, is one-hundred and sixty-five (165) years at the beginning of "Dark Lover".
He lives in the Brotherhood's mansion outside of Caldwell, New York.
He joined the Brotherhood in 1898.
Personality
Rhage is a dichotemy of temperaments. Usually, he is laid-back, fun-loving, and witty. He tends to speak before he thinks, always spouting the truth off before he can filter it with a tactful overlay. Rhage is a very sexual, sensual being.
Sometimes, though, especially when he's amped up, he can be aggressive, too. In such cases, beware! The Beast he is cursed to share a life with can come out, and it is wild and unpredictable, capable of great violence.
He is fiercely loyal to the Brotherhood, but moreso to Mary, the woman he is in love with (even to the point of agreeing to leave the Brotherhood if they refused to let him keep Mary in the mansion in "Lover Eternal").
Physical Attributes
Rhage is the most classically handsome of the Brotherhood. He has blond hair, and neon blue-green eyes, and a square-cut jaw. At 6'8" tall, 280 lbs., he is also a giant in the group, coming in just shorter than Wrath by an inch, and on-par with Butch.
He bears the traditional Brotherhood scar above his left pectoral.
He is marked by a "living" tattoo of a multi-colored dragon-like creature on his back. This tattoo is a representation of The Beast, that magically lives inside of him.
"Mary Madonna" is carved in the mating tradition in Old English across Rhage's upper back and shoulders, above The Beast's tattoo.
Vampire Abilities
As a full-blooded vampire, Rhage can dematerialize and materialize elsewhere with a thought, he can rearrange human memories, and he's been blessed with enhanced senses and strength.
In addition, because he's been cursed by the Scribe Virgin with The Beast, he unwillingly transforms into The Beast when highly emotional, especially in the face of anger. The Beast is a monster that is dragon-like in appearance, standing on four legs. It has enhanced senses, strength, and animal ferocity. It is also quite intelligent, seeming to understand human concepts of loyalty and love.
Sexual Relationships
- Several Females
- Mary Luce
Family & Other Relationships
MARY"
MEMBERS OF THE BLACK DAGGER BROTHERHOOD:
Mate (Shellan)
Mary Madonna Luce, a human
All Appearances
Lover Mine
Lover Unleashed
Lover Reborn
Lover At Last
The King
The Shadows
Foreign Translations
Rhage's name in other languages: